Enhancing Your Eyes: Can You Wear Eyeliner with Eyelash Extensions?
Eyelash extensions  are a popular beauty enhancement, offering the allure of long, voluminous lashes without the need for mascara or strip lashes. However, many lash lovers wonder if they can still enjoy the dramatic look of eyeliner while wearing extensions. The short answer is yes, you can wear eyeliner with eyelash extensions, but there are some considerations to keep in mind. In this blog post, we'll explore three examples of how to do it safely and stylishly.
1. Water-Based Eyeliners:
One of the safest options for eyeliner when you have eyelash extensions is to use water-based eyeliners. These eyeliners are formulated to be gentle on your extensions, minimizing the risk of damage. They are also easy to remove without causing any harm to your lashes.
Example: Try a popular water-based eyeliner like Stila Stay All Day Waterproof Liquid Eyeliner. Its precision tip allows for precise application, and its waterproof formula ensures your eyeliner stays put all day without smudging.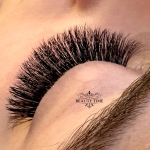 2. Pencil Eyeliners:
Pencil eyeliners can also be a good choice when you have eyelash extensions. Opt for soft and creamy pencil eyeliners that glide smoothly without tugging on your lash line. Avoid applying excessive pressure while applying to prevent any strain on your lashes.
Example: Consider the Urban Decay 24/7 Glide-On Eye Pencil. It comes in a variety of shades and is known for its long-lasting, smudge-proof formula that's gentle on the eyes.
3. Gel Eyeliners:
Gel eyeliners offer precision and versatility, making them a favorite among makeup artists. When using gel eyeliner with eyelash extensions, be careful not to apply too close to the lash line to avoid potential contact with the adhesive used for extensions.
Example: The Inglot AMC Eyeliner Gel is a highly-regarded gel eyeliner known for its rich pigment and smooth application. Use it sparingly for a beautiful, bold look without compromising your extensions.
Tips for Applying Eyeliner with Eyelash Extensions:
Always let your lash adhesive fully cure before applying eyeliner to prevent any disruption.
Use a clean, fine-tipped brush or eyeliner applicator for precise application.
Remove eyeliner gently with a waterproof makeup remover designed for sensitive eyes, avoiding the lash line.
Schedule regular eyelash extension maintenance and refills to keep your lashes healthy and beautiful.
In conclusion, you can absolutely wear eyeliner with eyelash extensions, as long as you choose the right products and apply them with care. Water-based, pencil, and gel eyeliners are all good options, each offering its unique benefits. Remember to prioritize the health of your lashes by being gentle during application and removal, and by booking your maintenance and refill appointments with your  favorite Beauty Time lash technician. With these tips and examples in mind, you can enhance your eyes and make your eyelash extensions truly pop!
Follow us on our Social media  accounts on Instagram, Facebook for more tips and examples of best eyelash extension tips and tricks.